When you order any gift set. Perfect as a stocking stuffer or to keep for yourself (guilt-free!) for healthy holiday travel. Ends Sunday at midnight or while supplies last.
---
FLAVOR: STRAWBERRY LEMONADE
SIZE: 8-PACK BOX

Use code HOLIDAY at checkout.
---
For the traveler in your life who has everything.
* Add your Flight Elixir 4-pack to cart to claim your gift.
"Our editors say to drink
THIS on your next flight"

TRAVEL FATIGUE

Tart cherry is a natural source of melatonin to reduce jet lag + travel fatigue.

BLOATING

With papaya for digestion and to fight travel bloat + gas.

CIRCULATION

Goji, beetroot + black pepper to support circulation + swelling.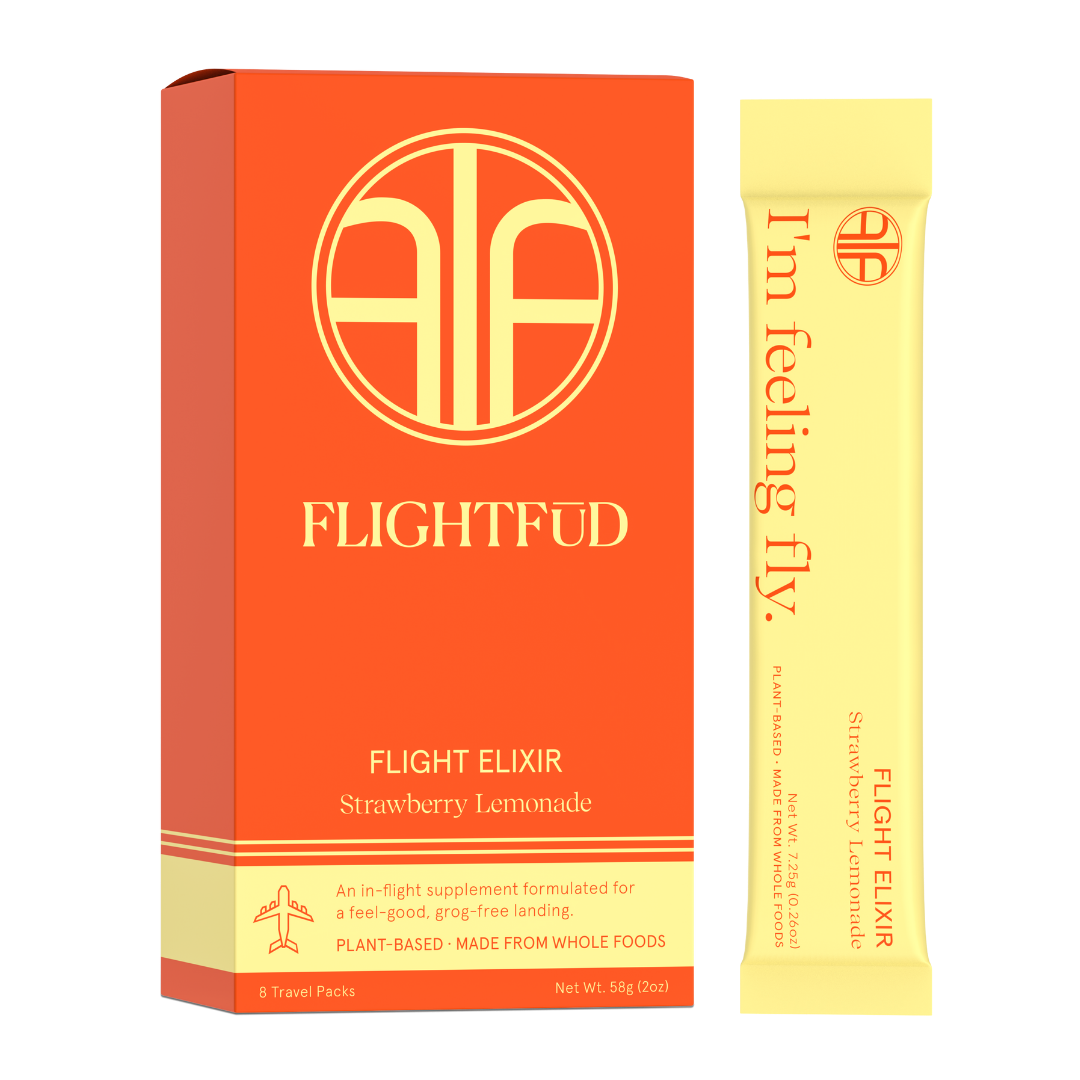 IMMUNITY

Elderberry + astragalus for a megadose of immune-supporting vitamins.

HYDRATION

Coconut water crystals to replenish electrolytes + enhance hydration.

SKIN

Pycnogenol®, "Nature's Super Antioxidant", to support healthy skin.


Drink one sachet 60-90 minutes before you board.

Enjoy one sachet for every 4 hours of time in the air.
Have another sachet within a few hours of landing.

Whenever you feel your body needs a boost or as a preventative measure.
---
---
Tasted good and it helped me feel better after a red eye and layover.
Usually I feel groggy, heavy, bloated, obviously exhausted and I need a day of recovery.
With the Flight Elixir, I noticed (after the red eye to Hawaii from CA and 2hr layover and plenty of waiting around at the airport) I got over the grogginess quicker, definitely significantly less bloating and gas, and I had more energy when I got home to unpack and everything. Def recommend!
---
---
I travel weekly for business.
I have noticed an incredible difference after using FLIGHTFŪD. Normally during flying I experience bloat/gas and I become lethargic.
With needing to go straight to business meetings from flight this was becoming difficult to battle.
Flight Elixir has increased my energy during flight and after but my flights have become more comfortable with reducing my the bloat. Incredible product.
---
---
I love this product! Being based in Hawaii I only fly long haul trips so I'm on the plane at least 8-11 hours at a time.
FLIGHTFŪD has all the natural ingredients that I already love! And it keeps me hydrated throughout the flight.
When I land I don't feel so sluggish and bloated and I feel especially great on my layovers!
You are what you consume. This is a must have and I'm thankful I found your website. Mahalo!